Medical marijuana growers, patients ask for delay on enforcement of new restrictions
By Mike Dennison – MTN News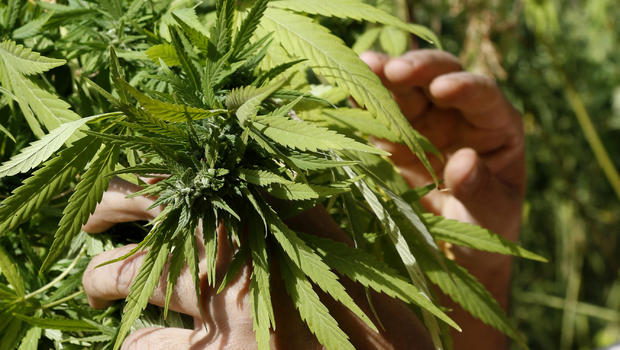 Marijuana (MTN News file photo)
Medical marijuana growers and patients Friday asked the state Supreme Court to delay for 14 months the enforcement of its recent ruling that upheld tough, new restrictions on the drug – so the 2017 Legislature has a chance to ease those restrictions.
Gov. Steve Bullock also said his administration supports the request because the court decision harms patients' access to marijuana and would take many months to implement.
"I am concerned about the ability of thousands of patients with serious medical conditions to access a treatment that has been approved by their doctors," he said in a statement late Friday.
Jim Goetz, a Bozeman attorney representing the Montana Cannabis Industry, also asked the high court to reconsider the portion of its Feb. 25 decision that limited marijuana providers to only three patients.
Retaining the three-patient limit essentially wipes out the medical-marijuana industry in Montana, he said, and many patients will be deprived of their medicine.
"There are no providers who can economically survive with the three-patient limit," Goetz wrote.
Attorney General Tim Fox, whose office defended the new restrictions, said it will review Goetz's request and file a response in court.
Friday's filing with the Supreme Court is the latest development in a five-year battle over changes made to Montana's medical-marijuana law, which was passed by voters in 2004.
In response to a huge increase in medical-marijuana use in Montana in 2009 and 2010, the 2011 Legislature passed new restrictions that included the three-patient limit, a ban on advertising for marijuana vendors, and a ban on charging for their product.
The law also said any physician who approved marijuana for more than 25 patients would be reported to the Board of Medical Examiners.
Montana medical marijuana growers and patients challenged the law in court in 2011. Most of its provisions were prevented from taking effect while the case proceeded.
The amount of medical marijuana sellers and users dropped dramatically after the bill passed, but their numbers steadily increased once the law was blocked from taking effect.
As of last month, nearly 13,600 patients in Montana have been approved to use medical marijuana and 476 providers are listed with the state.
In a 6-1 decision on Feb. 25, the Supreme Court upheld most of the 2011's restrictions.
Goetz asked Friday for a rehearing on the case, including his request to delay the decision's effective date until April 2017, to allow the next Montana Legislature to consider easing the restrictions in the 2011 law.
If the restrictions take effect now, "hundreds of caregivers will be immediately subject to criminal prosecution and over 10,000 patients will be scrambling to find alternative sources for marijuana," Goetz wrote.
Goetz also noted that state regulators said enforcing the restrictions will take at least four months – and that possible 2016 ballot measures could change marijuana laws again.
"I think it's very probable that this law is going to be changed," Goetz told MTN News. "So, the (state) keeps getting bounced back and forth. It has an obvious legitimate concern."
Goetz's filing included a statement from Roy Kemp, who heads the state division that administers the medical-marijuana law, saying it will be "impossible" for the state to implement the court's decision immediately.
Kemp pointed to the possibility that the law could be changed by proposed ballot initiatives that may be on the 2016 ballot.
"Without a delay in enforcement of the (Supreme Court) decision, changes enacted through either ballot initiative or legislative action will require patients, physicians, providers and (the state) to adjust to two regulatory disruptions in rapid succession," he wrote.
http://www.kxlh.com/story/31449754/medical-marijuana-growers-patients-ask-for-14-month-delay-on-enforcing-new-restrictions#.VuNdtoqIBCw.twitter